I don't know much about this guy and haven't seen anything mentioning him in the bay area, but he is still worth posting about.
http://murderpedia.org/male.K/k/kraft-randy.htm
On trial in 1989: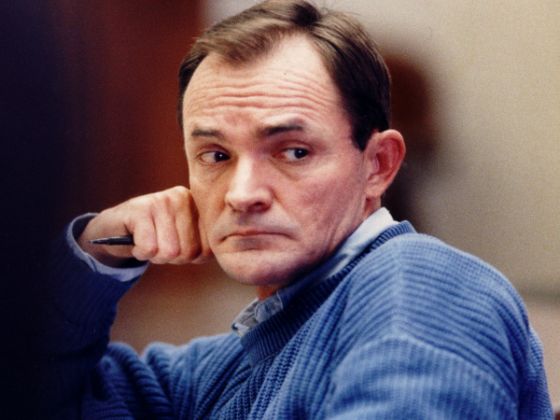 A.K.A.: "Southern California Strangler"
Classification: Serial killer
Characteristics: Rape - Mutilation
Number of victims: 16 +
Date of murders: 1972 - 1983
Date of arrest: May 14, 1983
Date of birth: March 19, 1945
Victims profile: Young men
Method of murder: Strangulation
Location: California, USA
Status: Sentenced to death on November 29, 1989
On the outside Randy Kraft was a normal fellow, a succesful computer programmer operating in sunny Southern California. On the inside Kraft was a lethal sexual sadist tht may have committed at least as many as fifty or sixty murders.
His killings are believed to have begun in the early 1970's and stretched until his arrest in 1983. His victims were all male, mostly homosexuals, who Kraft would torture and mutilate, sometimes while his victim was still alive. Apparently Kraft had a great deal of problems coming to grips with his own homosexuality, to say the least.
Kraft was arrested when police officers who pulled him over for erratic driving discovered his latest victim dead in the vehicle from a drug overdose. He was subsequently convicted of sixteen counts of murder in November 1989 and sentenced to death.
Unlike many Serial Killers, Kraft has denied involvement to this day and has has shunned the spotlight his crimes placed on him. He has never offered any explanation or shown any interest in clearing any unsolved slayings he may have committed. As a result of his stubborness, authoriites may never know for sure just how many men Kraft has actually murdered, though because of his extensive traveling it is suspected that the total could be as high as seventy.
On a summer morning in 1983 Orange County officers pulled over a driver for weaving.
The driver, Randy Kraft, got out of his car and began walking to the cruiser in a polite manner. The suspicious officers walked Kraft back to his car and found the body of Terry Gambrel slumped over dead in the passenger's seat. He had be strangled with a belt.
A background check on Kraft revealed a 1966 arrest for lewd conduct in Huntington Beach. In 1967 he had graduated from college with a degree in economics, and then a year in the air force, only to be discharged on grounds related to homosexual behavior. In 1975 he was arrested again for lewd conduct with another man, this time spending 5 days in jail and paying a small fine.
Officers searched Kraft's car and found fourty-seven photos of young men, some nude, and some unconscious, or dead. A breifcase contained a notebook with more than 60 messages in a code.
Searching Krafts home they found photo's of three men whose deaths were still unsolved in Southern California. Robert Loggins had been found dead in September 1980, and photos of his body were found in Krafts' home. Roger De Vaul, and Geoffrey Nelson were last seen in February of 1983, and their bodies were discovered days apart. Photos of the two friends were also found in the house. Fibers from a rug in Kraft's garage matched fibers found on the body of Scott Huges, who was found alongside the Riverside Freeway in April of 1978. Items belonging to a man found dead near Grand Rapids, Michigan were also found in his home. Kraft had worked for a Santa Monica based aerospace firm between June 1980 and January 1983, and had traveled to offices in Oregon and Michigan during times of some unsolved murders in each state.
Prosecutors eventually cracked the code in Krafts notebook. "2 in 1 Hitch" referred to the murders of Nelson and De Vaul. "Marine Carson" referred to Richard Keith, a marine last seen in Carson, California, and whose body was discovered in Laguna Hills in 1978. "Jail Out" referred to a murder he commited hours after being released from jail on June 11, 1978. "Parking Lot" referred to the murder of Keith Crotwell, an eight-year-old boy whose severed head was found by a group of fisherman. His body turned up a while later. Kraft was questioned in this case, and admitted meeting Crotwell in a parking lot the day he vanished. Kraft was considered a "Score-card killer".
In September 1983 the charges against Kraft stood as: sixteen murders, eleven counts of sodomy, nine counts of sexual mutilation, and three counts of robbery.
In January of the next year prosecutors filed written notice of their intent to prove twenty-one additional murders, spanning twelve years, and three states. Kraft was found guilty and given the death sentence. He is currently awaiting execution on death row in San Quentin State Prison in California.
Last edited by ophion1031 on December 11th 2019, 1:31 am; edited 1 time in total
Another in the tradition of California freeway killer. Randy, a graduate of the prestigious Claremont Men's College, liked to pick up young men, especially marines, drug them and strangle them. On May 14, 1983, a highway patrolman stopped Kraft in Mission Viejo for suspected drunk driving and noticed the dead marine sitting next to him. In the car, police also found pictures of several other victims, and a so-called death list with the victims' addresses and other incriminating items.

Prosecutors suspect Kraft killed as many as 45 young men in Southern California, Oregon and Michigan. A soft-spoken former computer programmer, he targeted hitchhikers between 18 and 25 years old. Many were sexually tortured before being strangled with their own belts. One victim's eyes had been burned with a cigarette lighter. Another man's head was found in the waters off the Long Beach Marina. Authorities believe he strangled his victims after drugging and sexually assaulting them, spawning Orange County's longest and costliest murder case.

After a 13-month trial, jurors deliberated two days before sentencing Kraft to death. The trial court judge upheld the penalty, saying the killings and mutilations were beyond comprehension. "I can't imagine doing these things in scientific experiments on a dead person, much less [to] someone alive," said Superior Court Judge Donald A. McCartin at the time.Randy was known as the "Score-Card Killer," because he kept a coded notebook with a tally of all his kills. Police linked him to sixty-two deaths spanning three states, but only sixteen have been proven conclusively.

Before sentencing, Kraft strongly maintained his innocence. "I have not murdered anyone, and I believe a reasonable review of the record will show that," he told the judge. In his appeal, Kraft argued that his original trial was riddled with more than 20 legal errors. His most serious charge claimed the judge erred in allowing prosecutors to use as evidence the "death list." His attorneys alleged that the list--a sheet of paper bearing 61 cryptic entries that prosecutors called a "score card" of victims--improperly prejudiced the jury against him. But the Supreme Court disagreed, saying the list was relevant to the case.

On August 11, 2000, the California Supreme Court upheld his death sentence in what officials described as an important advance in the effort to execute the notorious serial killer. The justices unanimously rejected Kraft's claims that he received an unfair trial, saying he should die for the decade-long murder spree.

Randy Kraft: The Southern California Strangler

by J. J. Maloney

There are those who call Randy Kraft the "Freeway Killer" and they are wrong. William Bonin, executed at San Quentin in 1996, was the Freeway Killer.

There are police agencies who say the media were wrong to name Bonin the Freeway Killer – that that 'title' belonged to Kraft, whose murder spree began before Bonin's. They too are wrong.

Dennis McDougal's 1991 book Angel of Darkness touts Kraft's murders as "…the most heinous murder spree of the century." That is wrong. McDougal's book is compelling, shocking, detailed, well written and inaccurate.

You cannot discuss the murders Randy Kraft committed without also discussing the Freeway Killer case.

The story began in 1972 when bodies of young men – often Marines – began to be found in Southern California – specifically from the city of Long Beach, through Orange County and into San Diego County. There were several "signatures" to the killings: the victims were frequently burned on their left nipple with an automobile cigarette lighter, some of them had their left testicle cut out while they were alive, some had objects shoved into their rectums (in some cases something on the order of a tree branch, in other cases a single sock). The real link to these cases was the use of drugs, the most common being Valium, ingested with alcohol.

The murders were truly horrific. In one instance the victim's eyelids were cut off to prevent him from closing his eyes during the torture.

Not every case carried the signatures of all others – which resulted in differences of opinion from one police agency to another as to whether all of the killings were by the same person.

After a rash of killings through 1975, there was only one such murder in 1976 and one in 1977. The news media did not know about these latter two murders, so it was widely believed the series of killings had stopping in 1975.

Then, in 1978, the murders renewed with a vengeance – with 14 murders occurring between Apr. 16, 1978 through Dec. 13, 1979.

On Dec. 6, 1979, Tim Alger, a young police reporter for the Orange County Register wrote a story that a new killing spree had begun. Significantly, although police in earlier years had been willing to divulge details of the murders – such as burned nipples, emasculation, etc. – they had stopped providing any details whatever, other than name, rank and serial number of the victims.

The following paragraph is an example of what Alger was up against: "The investigators refuse to give many details of the murders that may link a single suspect to several – or all – of the killings. They talk of "possibilities" and "possible leads" and, when asked about links between the murders, a detective responded, "That could be. I can't say one way or another. But it's always a possibility.""

Alger's story was a lone voice in the wilderness. The Los Angeles Times ignored the killings, as did the television stations.

On Jan. 10, 1980, the Register hired me as an investigative reporter. It seemed obvious that a major serial killer was at work in Orange County and the surrounding areas, whether or not the police cared to admit it. Marv Olsen, the metro editor, assigned me to work on the story full-time.

Since the police wouldn't say there was a serial killer at work, I enlisted the aid of Dr. Albert Rosenstein, a forensic psychologist. On March 24, 1980, the Register ran a story that covered the top third of the front page, titled, "'Freeway Killer' Cruises For Murder."

Olsen had agreed that giving the killer a 'name' would make him less abstract to the public. It worked. The radio and television stations jumped on the story, and from that point on the killer was a reality to the public. The only major media outlet to shy away from the story was the Times.

My story contained some of the same types of flaws Alger's story had contained. Since the police were withholding details of the murders, Dr. Rosenstein had no way of knowing there were two killers working at the same time, but with different M.O.s. And Rosenstein, in an excess of confidence, had insisted on linking the killer to Patton State Hospital – believing the killer had been incarcerated there as a sex offender.

In his book, McDougal lionizes Orange County detective Jim Sidebotham. When the Register ran its "Freeway Killer" story, Sidebotham expressed misgivings about the usefulness of a multi-agency task force, such as had been assembled to catch the Hillside Strangler. Sidebotham argued that, since many of the Freeway Killer victims were unidentified, a multi-agency task force would serve no good purpose. In fact, 10 years after William Bonin was captured, Sidebotham still expressed this view (page 367 del libro).

Yet, as McDougal's book demonstrates, a closer relationship between the investigating agencies might have uncovered Kraft much sooner. He was arrested in 1975 in connection with one of the murders, but an assistant prosecutor refused to file charges. Also, a number of victims were known to frequent Ripples, a gay bar where Kraft was a well-known customer.

McDougal adopts the view of some in law enforcement that the Register was "irresponsible" in calling Bonin the Freeway Killer, when – they argue – that title belonged to Randy Kraft.

That is untrue. The name "Freeway Killer" was coined to describe the serial killer who was in a killing frenzy in early 1980, and that was William Bonin – who murdered 21 young men between August 1979 and his capture on June 11, 1980. In fact, 48 hours before the Register's Mar. 16 story broke, two bodies were found, resulting in a bulletin in the middle of the page one story, that read: "Two bodies found at noon Saturday between the lower San Juan Campground and Ortega Highway in Cleveland National Forest may be the 30th and 31st victims of the Freeway Killer. The victims were teenaged boys; both were strangled and one was homosexually molested, according to confidential police sources."

The fact is, long before my story was printed, the police had compiled a 52-inch wall chart, titled, "The Southern California Strangler(s)" – a designation apparently unknown to McDougal more than 10 years after the fact. The Los Angeles Police Department on Jan. 31, 1979 issued the first issue of that chart, before Bonin had killed his first victim. Updated versions were issued on May 1, 1979 and July 20, 1979, also before Bonin began killing.

So Randy Kraft is the Southern California Strangler, and William Bonin is the Freeway Killer.

Bonin did not torture or emasculate his victims, while Kraft is accused of that. The most telling difference, however, was that Bonin would stop his vehicle and dump his victims out, while the Southern California Strangler shoved his victims out of a fast-moving vehicle, often leaving long trails of flesh on the highway.
Similar topics
---
Permissions in this forum:
You
cannot
reply to topics in this forum