Courtesy of Morf...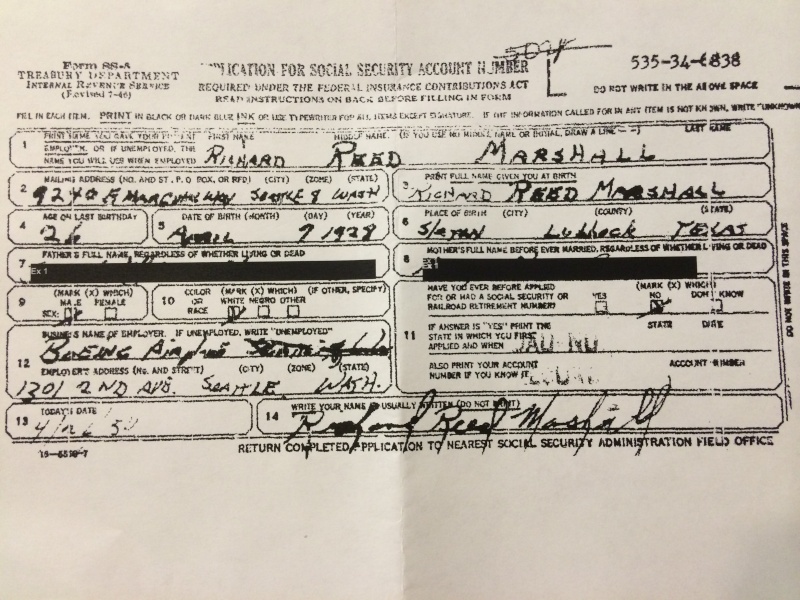 A couple of things I wanted to point out...
1. It is believed that the date this was filled out was April 1950, but it looks like it says "26" in the section where it asks "how old you turned on your last birthday." He put 1928 for the birth year, so the year he filled this out would have been 1954. And it does look like it could say 1954. Not this this is really all that important.
2. I figured out the home address (I'm 99% certain) that he put. Not that this is important either, and someone may have posted this on another site already, I have no idea. But the address is 9240 East Marginal Way S., Seattle, WA. Google this address and right behind it you will see "Boeing," Marshall's employer, although I don't think that matches the address he put down for his employer.
3. Employer was Boeing Airplane Co., 1301 2nd Ave S., Seattle, WA. To me, this means there is probably a better chance of Marshall being at that Army air field base in Texas in 1948, although I think the base was being transitioned to an airport at the time. Perhaps Marshall worked at the airport instead of being in the Army??? I wonder what position he held at Boeing.
Last edited by ophion1031 on May 15th 2016, 2:49 am; edited 4 times in total
By searching his SSN, I found this link...
http://www.sysoon.com/deceased/richard-reed-marshall-237

This memorial website was created in memory of our loved one, Richard Reed Marshall, 80, born on April 7, 1928 and passed away on September 8, 2008.


Similar topics
---
Permissions in this forum:
You
cannot
reply to topics in this forum