It became apparent to viewers of The Totally Credible Seance Session with Thomas, A Radio DJ, and The Foul, Oppressive & Diabolical Evil Presence of Gaikowski who, they claimed, was residing in the attic of His former Place of Work.

It is a thoroughly believable watch as the DJ begins coughing and gagging declaring He feels suddenly I'll. Then, before we can ask what's wrong, He has a panic attack and begings crying like a Five year old terrerfied mass of "I'm scared, ohhh no, please help Me....I'm scared Guys, ***Cry cry cry***, a five year old who's just watched Halloween 4, The Revenge of Michael Myers.

Anyway. . . it was determined that Gaikowski was sitting up in the attic in His Spirit form. Yeah, you know, as We all would rush to inhabit the closest attic when Dead *Roll eyes.

Tom now don't piss about please, ask The Spirit of Richard Gaikowski. . .

"Mr Gaikowski Sir. . . Where is your fouking Passport!!"
Did all that really happen? I kind of remember seeing or hearing about something like this before, I think, but can't be certain. Getting a psychic to try to prove your guy was Z is a pretty pathetic attempt if this indeed happen. No court is going to allow a psychic to testify and take it seriously. I was actually going to start a thread about psychics the other day, but the particular thread at Tom's site that I wanted to point out seems to have vanished.

Take this song and change the word "toys" to "Gaik" and you got a #1 hit!!


Did this really Happen?

 Yeah, it was video recorded and uploaded to Youtube.

 He and His colleagues becoming ill and crying and ssstttuff! Gaikowski is the cause of it, and Gaik can be heard speaking via EVP apparently too. Although what They call 'The Disembodied Voice of Dick Gaik' I call 'Static White Noise.'


 Here is the radio DJ discussing How He almost died via The Gaik-Zode-Entity-Thingy....


     https://youtu.be/toGqvLN5668
See, first words from DJ....

 "And I was attacked, by a Ghost, and then I began having a panic attack, at least that's what I thought it was at first until, I realized that I was under attack from something." 

 Then He speaks about crying like a big shit-house live on air after Gaikowski's Evil presence almost kills Him via frightening Him to death, literally....
Last edited by WelshChappie on February 18th 2017, 9:25 am; edited 1 time in total
I don't think the DJ is lying, or making up His feeling scared. No, I think He did experience these things but it wasn't caused by the power of Spirits, but the power of suggestion. 

 A study has repeatedly shown that if you place 10 people in a dark place like a room for 30 minutes and tell them its reputed to be extremely haunted with reports of cold spots, people being touched etc and then put another 10 people in the same room later on but tell them nothing at all then the first group who are told it is haunted are 70% more likely to claim they felt something, saw something, heard something or sensed something than the second group who haven't been given the suggestion of this being a 'haunted room'.

 It's just suggestion at play, not Ghosties!
Someone at Tom's site posted a newspaper article that says Gaikowski WAS in Ireland but doesn't give specific dates. The article is from January 1969.
Credit to user 'mycroft' at zodiackiller.com
And Tom's reply to that was "Why would that matter?" It doesn't prove Gaik was in Ireland during any murders but now we know for sure that he was in Ireland at some point in time and that has to be important.

Rocketman




Posts

: 909


Join date

: 2015-09-14


Age

: 57


Location

: Toledo, Ohio



Sorry I posted that in the wrong thread and got this one off topic.

Rocketman




Posts

: 909


Join date

: 2015-09-14


Age

: 57


Location

: Toledo, Ohio



"And Tom's reply to that was "Why would that matter?"

 Like I said over and over again, Tom will willfully ignore, and consistently does ignore, any and all evidence, or even the mere suggestion of the existence of evidence, that appears to exclude Richard from being the Zodiac.  If Tom Voigt says Gaik is Zodiac, and the physical evidence says Gaik isn't, then Tom will and does expect that You take His word and belief over and above the physical evidence.

 Tom will reject anything You present to Him that suggests His theory is wrong because of His absolutely huge Ego that won't allow Him to accept and admit that He could, and seems actually is, wrong.  He's Tommy V you see. Appeared on Two Zodiac Documentaries and it's gone to His rather redundant head when in one He was captioned: "Tom Voigt -  Zodiac Expert."  

 I mean producer asking Him to feature in this documentary over here, then Coast to Coast AM with none other than George Noory came calling, I mean this has gone to one's head! One now believes One is incapable of being wrong even to the point of His Theory (Hint: It's called theory for a reason, Thomas!) will trump any and all physical evidence that seems to indicate that His theory is incorrect.
It seems that Richie of ZodiacCiphers.com has received an anonymous letter written by a person who signed off as: The Voighty Phantom. . .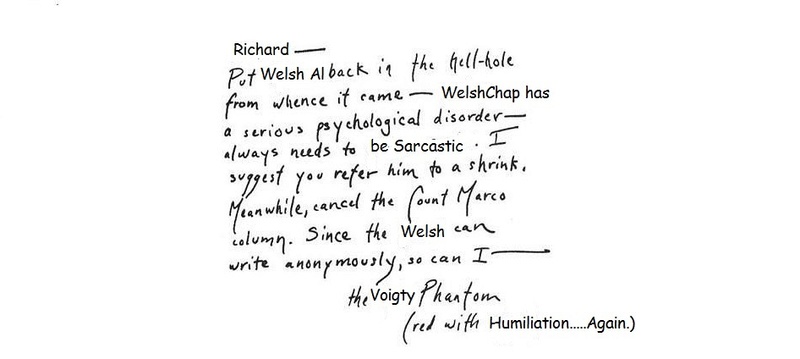 Anyone got any ideas on the possible author? I suspect this may be the work of a Certain WebMaster who I shall refer to only as 'The Tommy-Knocker'.  I do believe the best way to proceed is to have the letter forensically tested for fingerprints. They believe DNA is present but it's from a sub-human source said the Lab. Their words, not mine. Don't shoot the messenger. . .Tommy-Knocker.
Similar topics
---
Permissions in this forum:
You
cannot
reply to topics in this forum