This is a portion of a letter that Manalli wrote to his literary agent.  It is interesting for two reasons.
First, Manalli writes about his grandmother's death.  Fred was very close to his grandmother who lived with the family.  Both of Fred's parents worked in a textile factory while he was growing up.  His grandmother largely raised him.  Fred mentions his grandmother in a couple of his stories, too.  
The grandmother was a midwife and she also performed abortions.  Abortion was highly illegal back when she was practicing, it was also very dangerous and usually done in less than sanitary conditions.  In 1928 a woman that she had performed an abortion on died and she was charged and apparently convicted in the woman's death.
The second interesting thing is Manalli telling his agent about having been questioned for the murder of one of his students.  That student was Kim Allen.  We were never quite sure if Manalli was ever suspected in any of the SRHM cases before his death in 1976.  This admission on his part settles that question, he was a suspect before his death.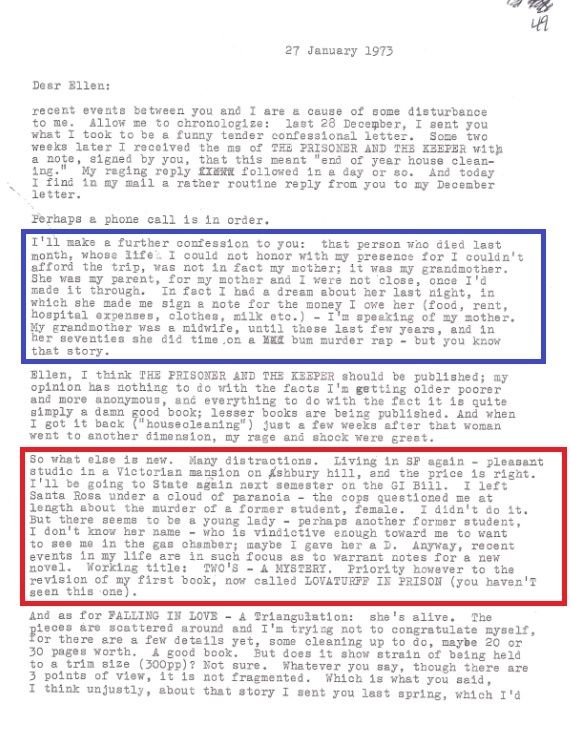 This next article was in the Edwardsville Intelligencer Dec. 15, 1928 and tells about Fred's grandmother being arrested in connection of the death of a 21 year old woman.  It is the only article I could find about the incident and is not from the local Rockford IL newspaper.  I am hoping that Galaxie can find more articles about this in the Rockford newspaper.  I would be interested to know just how accurate Fred was in telling his agent that his grandmother was convicted of murder and did time in prison.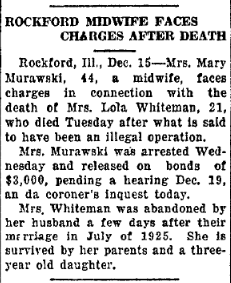 It just dawned on me that Fred says in his letter that his grandmother "did time on a bum murder rap" in her seventies so that 1928 article is not what Fred was referencing. Mary Murawski was born in 1885 so if she was imprisoned in her seventies the prison time would have happened between 1955 and 1965.

It seems like she may have continued to perform abortions well after the 1928 incident where a woman died. Wow, what a great role model for Fred......

Galaxie, if you wouldn't mind looking for this incident, too, it would certainly be appreciated. I hope whatever database you are finding these Rockford articles in is digitized!
Here's what I was able to find -
(The Rockford Republic. Oct. 04, 1924.)
(The Rockford Register-Republic. Oct. 06, 1924.)
(The Rockford Daily Republic. Dec. 12, 1928.)
(The Rockford Morning Star. April 20, 1945.)
(". Oct. 11, 1945.)
(Rockford Register-Republic. Dec. 31, 1952.)
(". March 07, 1953.)
(". March 26, 1953.)
(". March 30, 1953.)
(Rockford Morning Star. April 11, 1953.)
(Rockford Register-Republic. Nov. 11, 1953.)
(Rockford Morning Star. Feb. 09, 1954.)
(Rockford Register-Republic. March 08, 1956.)

Galaxie500




Posts

: 259


Join date

: 2015-07-13


Age

: 26


Location

: Westchase, FL / Charlotte, NC



Wow! That is amazing, in a bad way. I had no idea that Fred's grandmother was involved in so many deaths. I'm astounded.

A psychologist could have a field day with what all of that probably did to Fred's head and his sense of right and wrong.

Thank you so much for finding the articles Galaxie.
That is insane. I wonder how this affected Fred if at all. I'm 100% convinced he was involved in the Santa Rosa murders and 95% he was involved in the Zodiac murders. I read something somewhere that stated Manalli became the top suspect in the Santa Rosa murders after he died and that he had a partner or was the partner of another man who was also deceased. I can't remember the details or where I read that but I will see if I can find it again.
I am convinced, too, that Fred was involved in the SRHM. His sister has offered to give her DNA to be tested against any DNA that was found on the victims. Supposedly there was DNA found on two of the victims. The detectives have ignored my emails telling them about Fred's sister. I believe that she also contacted them and they brushed her off.

I am not convinced that he was involved with the Zodiac Killer though.


dang they need to get that DNA tested and, if manalli was the killer, give the families some closure.

tripleJ




Posts

: 15


Join date

: 2015-08-19


Age

: 34


Location

: Oakland, California



I just have a feeling that Fred wrote the Zodiac letters and was the "partner" but I don't think he killed anyone. He may have been present at the Lake Berryessa murder though.

IMO, Manalli was still a partner in the SRHH murders or maybe he was the murderer this time.

His handwriting is very similar to the Z letters and he used similar words and at times similar sentence structure. And then there's the personal ad. To me that just cannot be a coincidence. Unfortunately, that personal ad isn't enough of a smoking gun.
When was the letter to the literary agent discovered? Never seen it before now. That's pretty big. I had always thought that Manalli was not suspected of Kim Allen's murder until after his own death.

Rocketman




Posts

: 909


Join date

: 2015-09-14


Age

: 55


Location

: Toledo, Ohio



We have had the literary agent's letters for a couple of years I believe. That Manalli was questioned about Kim Allen's murder before his death was posted at ZKS not long after we received the material.

I contacted the literary agent, who is still living, and she claims she does not remember Manalli at all. Some of the letters are so strange that I find it hard to believe. I guess literary agents get so many strange submissions and correspondence that Manalli's did not stand out........
That's weird. You would think Manalli would have stood out to her. Maybe she knows something she is not willing to share. Maybe not. I wish we could find a list of people Manalli was friends with to dig into them. I'd bet he was friends with the "afro guy" mentioned... I do think Manalli was responsible for The Santa Rosa murders, but the question I keep asking myself is this: was Manalli the partner (as I think he was with the Z murders), or was he the killer this time and somebody else was HIS partner this time?

I don't think Manalli committed any of the Zodiac murders, but I do think he wrote the letters as I have stated many times before. I do wonder if he was present at any of the murders.

Do we know if Fred had any type of code training while in the military? If not, I think Zodiac himself would have come up with those or maybe even a third person. If we are to believe that Fred WAS Zodiac's partner, then we know that at least one other person knew about it - the person who placed the personal ad.

Hi, Deb!!

---
Permissions in this forum:
You
cannot
reply to topics in this forum