any info on what the map 3-6 -9 could mean ?

Don Pseuym




Posts

: 593


Join date

: 2015-08-22


Location

: overland park KS



I noticed the ink cross hair ( zodiac killer symbol )
And the phillips 66 emblem off shore are at a 17 degree like the angle between mag. N & true north. ......I think the bm he said he planted is in yolo county

Don Pseuym




Posts

: 593


Join date

: 2015-08-22


Location

: overland park KS



I have seen different theories on this and none of them make sense to me lol.

Rocketman




Posts

: 909


Join date

: 2015-09-14


Age

: 58


Location

: Toledo, Ohio



If you are not familiar with Randall Clemons' work, please check it out. Very fascination stuff. He thinks the 340 is a grid rather than a cipher and the 66 map plays into it.

http://www.zodiackillerenigma.com/
Note: I did post this solution on the forum earlier in the year and subsequently deleted it because of issues i was having with the case. I'd like to post it here once more so that you can give it some consideration......
ZODIAC BUTTON LETTER "MAP CODE" SOLUTION
This article relates to the 32 symbol long cipher sent to the San Francisco Chronicle on June 26th 1970 by the Zodiac Killer.

Note: The title should read "partial solution", because it's my firm belief the "Bus Bomb Letter" is also a puzzle to be solved using the map as well and so there may be more developments to follow.  The cipher is part of what's commonly known as the "Button Letter" and you will need the following to work through this with me: 



·         A copy of the Button letter, (on screen will do)





·         A copy of the "Little List" letter he subsequently sent on July 26th 1970, (particularly the 2nd 5th pages including the SFPD=o clue and the "Radians & Inches" clue





·         A print off of the "Diablo", map sent with the button letter. You can do this entirely on screen as well if you want.




 I will try to lay out the solution for this cipher in the order things came to me.Firstly I studied the Button Letter and two things seemed of particular note. Button Letter "clues"·         The word, "not" is underlined on  the third line of the text·         And more subtlety… In the last paragraph, the phrase "The Map" has the word capitalised. At this point many will say, "so what" ? The Zodiac makes spelling and grammatical changes constantly and this is just one of many. Fair point but I guess it's a good thing that to me it stood out because it will be one of our key confirming factors as we go forward. 
Manipulate the code…. NOoooo Not another one of those "solves" Thankfully not ! Now, if you look down at the 32 code cipher you will notice the top line has 17 characters and the 2nd line has 15. Again this struck me as unsatisfactory as the Zodiac loves symmetry in his ciphers. So at this point I'm going to ask you to do something that will set alarm bells ringing amongst all cipher breakers …… Move the G character in the top line down a row so that you now have a symmetrical 2 line cipher set of 16 characters each. Believe me, I know you might be getting worried about another  code-manipulation fiasco but don't be. This is the one and only change we will be making.  
 

NOT NOW!  So, returning to our two Button Letter "clues", (and that they are!), I noticed that the sixth column has the characters O  and a backwards J. This "J" has been stylised to look like T. Hurried writing or a coincidence? No it's not my friends! It's a subtle hint to our first letter decode. Place the letter N above this column and you will spell the word "Not" vertically. A great benefit of this, (and why I'm certain it was intended), is that the Cipher letter O is one of only three to repeat in this code block. So now we place another N above the cipher letter O in the 14th row and guess what? We have now spelt "Not Now" ! I suspect this was referring to the point that he had no intention of planting a bomb now. Also I'll mention that although this hint has allowed us to place our first two characters, the "Not now" wording doesn't form part of the de-coded message itself.
Where now ? or where to is more the point  I considered that to solve this puzzle we would almost certainly be looking for a bearing and distance, (or set of), of some kind. In my mind bearing comes first so that was my starting point. I found the word, "bearing" neatly fitted at the start of our code, (aligning perfectly with our letter N). The good thing about this, (intentional I'm sure), is that if we solve this first word, we have the final two repeating cipher characters solved, (making the whole problem that bit easier). I ran with this idea for quite a while but the repeating B from the word bearing gave me all sorts of problems on the 2nd line. So I thought of an alternative word for bearing and came up with Heading. This also fits well with our letter N and is in fact our first correct word…. Hooray !! 
A possible clue I picked up as well at this point was I noticed the word CAJI at the start of the code block. I Googled this and it came up with Caji, (short for Cajioste apparently) as a US/Spanish word for schoolmaster. This maybe relevant, it may not but it brought to mind schoolmaster … Headmaster, Head, (as in heading). I'd like to think it's a nod we're on the right track. Radial Units  Zodiac helpfully tells us we will be working in radians on this puzzle, (rather than the more obvious choice of degrees), so I went through an whole cycle of ways of writing this, (and not), including, Radians, rad's rad, etc… I thought maybe the word radian doesn't need inserting at all, (and could be assumed), but that didn't sit right with me so I placed the word "Radians"  in next, leaving a 1 x cipher gap for a unit value. This word fits nicely with our N on column 14 although frankly, a one cipher gap didn't initially seem enough, (oh and you're going to need an eraser a bit later to alter the word "radians", but I need
you to follow my lines of though at this point… Trust me! 
Value
  Now we have to make a decision where we're going to get our numerical values from and the obvious place, (to me anyway), was to use the geometrical shapes and numerical symbols in the code…. The triangles, squares, x, etc. Straight away you will notice that neatly contained within our word, "Heading" are a triangle and square. I don't think anyone could argue that the obvious thing to do was to assign a numerical value of 3 for the triangle and 4 for the square. This gives us a value of 3 & 4 or 34 perhaps and I believe I ran with this for a while and got nowhere. Until it was that I thought of using the fourth cipher code symbol I as a number one. Now this is not a bad assumption because as those who are familiar with the Zodiac's codes will know, he capitalises all his letter L's.  So now I had the value 314 and that when combined with the fact that we're working with radians will jump off the page to many as the value Pi. In fact to confirm we are on the right track, you'll notice the 7th cipher code symbol is the Pi character, (all be it rotated). Also conveniently for us, phew!, the value Pi can be represented by its symbol ∏ and fits very nicely in column 8. So now we have our heading of Pi radians which conveniently equates to a good old value of 180 degrees, (due south). To set our bearing on the map & see if we get any more confirmation  You will plainly see on the Diablo map that our compass is set above Mt. Diablo and we're told to set the compass to magnetic north, (Mag. N.). A search online reveals that magnetic north in the 1970's California, (it fluctuates apparently and thank goodness for the web!), is 16.8 or 17 degrees, (it matters not). In doing so, if you now draw on the map a line heading due south, you will have our heading.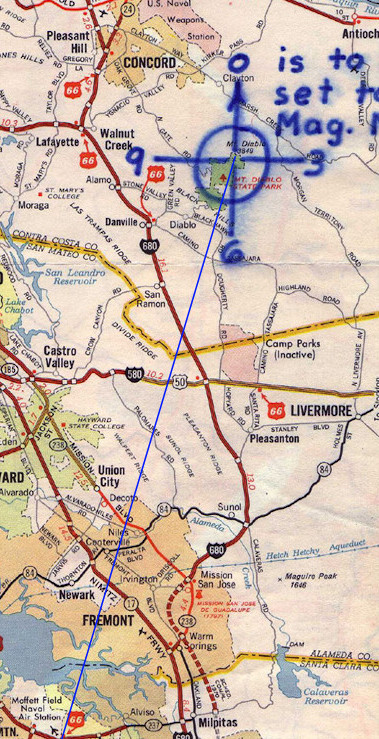 A break from all this and where inspiration strikes !!  Remember I said within the phrase "The Map" in the Button Letter seemed of significance to me? Well we have arrived at a point where perhaps no one else has trod!I looked within the cipher code to see if the phrase, "The Map" was in there and sure it was. I expect many have noticed this over the years but I haven't personally read any article that mentions it and this is my own original thought processes I'm laying out here. The reason I was looking to see if the phrase was present is that it's quite a common tool to do this and the code once deciphered will spell a significant word under our The Map phrase. Personally I did this work by scribbling on pads, but also having the code block in Excel so that I could link the corresponding cipher solution to the "The Map" phrase and keep an eye on it to see if anything emerges. The second piece of inspiration  I thought I'd look within the remaining cipher code letters to see if anything else emerged, (and only a straightforward, plain-text solution would satisfy me)- no using letters twice or the like. Sure enough and this was the pivotal breakthrough for me, I found the word, "FOLD". Now we have the phrase, "Fold the map" and probably the most important clue in this whole scenario. 

Fold the map !  Ok, where should we fold the map? Well I studied the map and it seemed to me an obvious solution might be to fold it where the Zodiac did….. You're kidding right! Nope, staring you right in the face is a vertical fold line in his map, (sometimes more visible on screen and certainly better with the Hi-res map available online). Also there's a fold about 20% up from the bottom and a last fold just under the number 6 on the clock face of our compass.  Follow carefully …. Fold the map as he did along the vertical crease, (as accurately aligned to his as you can). Hold the map, (now folded), so that you're looking at the side with the compass on and make a 2nd fold away from you along the fold marks present toward the bottom of the map. If you study the original map creases you will notice from the peaks and troughs in them, that this was indeed how he did it. You could make the final horizontal fold below the clock-face 6 if you like, but it's my assumption that this particular fold was simply to fit the map in an envelope. Why aren't they all for that purpose I hear you say? Well, all I can say at this point is firstly we've been "instructed" to fold the map and secondly I thought that someone folding the map to fit in an envelope would either fold it in half, or if that was to big, perhaps fold it into equal thirds. In fact, call it intuition or not, this fold will soon become crucial and quite evident.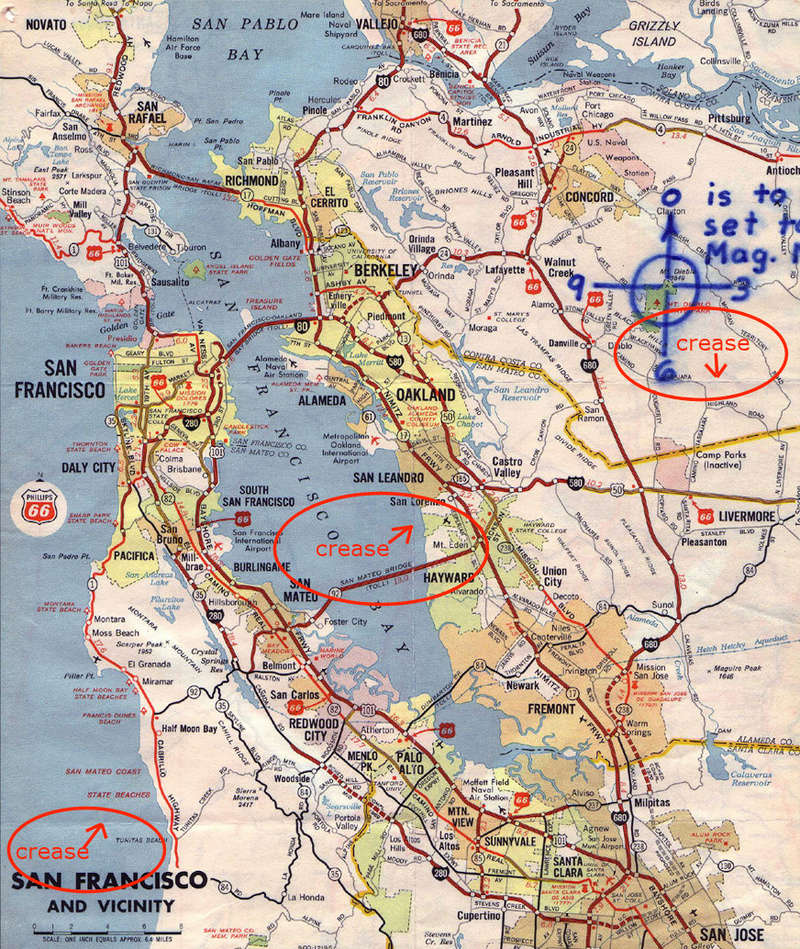 You Devil !  

If you've made the folds correctly, you will notice that our Pi radian, 180 degree or due south line, (whatever you want to call it), passes  through the 6 on the clock face and land at our fold right on one of the 66 symbols from the Phillips 66 map….666 – Mount Diablo, Devil's mountain, etc.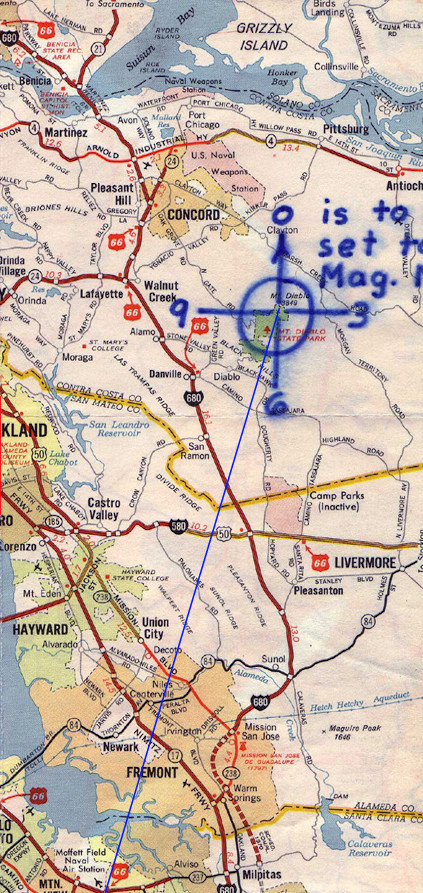 WHAT MAP SHOULD LOOK LIKE WHEN FOLDED CORRECTLY (above)  OK, enough of this map business- back to the cipher  Inching along!  I now turned my mind to our distance, (or distances), and we know we're meant to be working in inches. At this point I will say I noticed the word inches almost spelt out in the bottom line as have others according to some forum posts I've read. So we'll do nothing more complicated than put the word Inches we're it fits, staring on column 6 of the bottom row.

Numerical values ?  We're back to this again and you all know any cipher solve is going to be viewed ok if we stick to our methodology. So looking at the code block we see we have two remaining triangles and a square… The values 3, 4 and 3. Well believe you me, I played with this combination for ages. Was it 3, 4 and 3 or 34 and 3 or 3 and 34 ! Did the square symbol on column 7 of the bottom row, being halved = 2 instead of 4 or perhaps you could consider it 2x triangles = 6 ? The list could go on but we're about to get some help, (and perhaps a point where your confidence in me is growing I hope), in the form of our old friend, the backwards J, stylised  T and now number 2, (if you rotate the page to have a look). Don't you just love it when a plan comes together!Hang on though, we're not out of the woods yet because we've still got our problem of quite how those numbers, (now the sequence 323), should be used. I tried many things, whilst applying the resulting values to the map in some way, none of which worked. I considered we couldn't have values of 32 or 23, (we'd be way off the map), but we could us the X on column 1 of the second row has a multiplier to make 3x2 =6. This too put's us off the map if I remember but now comes another Eureka moment… use the dot in the centre of the circle in column 2 as a decimal point to make 3.2 ! 

You are 
kidding right?  We're dealing with inches here, an imperial measurement, not decimal. If you're going to tell us he measured 3.2 inches or some such ridiculous thing, you've fallen at the last hurdle !Hold your horses. I also had that thought until it came to mind …..Wait for it … the scale of the map is 1inch = 6.4 miles so 3.2 is nothing more complicated than a quite simple, (and tricksy on his part), 3.2 miles or…HALF an inch ! Oh and to confirm we're right, notice how the cipher symbols in the "HALF" inc area sort of say 0.5 ! or 0. F-V-  Filling the gaps in the code  So now we know we have to fit in the values "half" and "three". As it happens they fit quite nicely either side of our Inches word on the bottom line.A few things here …. Why write "half inches three" instead of "three and a half", (as seems more grammatically correct? Cipher coders will no doubt pounce right on this one… Because the Zodiac's 408 code was ultimately cracked in a large part to double L' and what with the letter E being both a common letter, (the most common), it might be a sure fire way to crack the code. So what to do ? Put the "THREE" on the end, send one of it's letters up to line one, make an unbalanced cipher set, the whole conundrum much harder, whilst still retaining a usable value. I personally could read that value as "half inch", "inches three" or simply "half-inches-three" as it reads. You tell me, when did puzzle makers ever mind bending a few rules? If it suits them that is. 
The Map  Those of you who have been following this and filling the grid as we go will now notice, under our phrase, "The Map", the letters CEARH have appeared. Any code / puzzle enthusiast will know that's gold-dust because it's just one letter out from spelling "SEARCH", (in anagram form).Search The Map ! The final word  To complete the word, "search" we need to place an S in our code above the cipher letter T. For those of you who followed my early instruction to place the word RADIANS in our code, you will notice we now have a very inconvenient double S, (in columns 15 & 16 of the top line). There's nothing for it, we'll have to delete that S off of radians have Pi Radian. It didn't seem right to me but it's a case of puzzle makers bending the rules again …. This time for good reason I think!We now need a three letter word to link our top and better lines. The only word that fits is USE, so put that in. Now we have our completed code block. 

You Ass!  Why all that messing about with the S just now? Have a look, he's spelt the word, "@%##" on the end of the top line. Was this just for his amusement? Possibly, but I did consider whether if we looked at the words on either end of the top if that had any significance…. HEAD – ANUSWas a local sports coach an ass and get called Head Ass instead of Head Coach? Did the Zodiac work for / with a Head Assistant or Head Teacher he called Head ASS? It may be something and if my instincts are right, it will definitely have some meaning other than a simple joke.   The map again  It's great to be back to the map but what to do with, "half-inches-three" ? Does it mean travelling half inch in one direction and three in another ? Well there's no room left in our code block, (and I did consider picking things apart to make room), but the simple answers maybe the way to go….Either travel back up our 180 degree heading line 3.5 inches or ……. Use 3.5 inches to draw a radius from our landing point, (at marker 66 on our folded map line), and see where it takes us.Perhaps it crosses through somewhere relevant , perhaps I'm yet again going to fall at the very last hurdle ? BE A SPORT !!!  Truly the last hurdle…  You will find if you in fact draw this radius, it lands on our centre map fold, (surely the right thing to do), smack on top of the Oakland Alameda County Colliseum!Looks right doesn't it, but in true coders style, can we be sure ? Well we have one last clue that we haven't used yet – the SFPD=o clue from the Little List Letter. If you overlay that on the map using photoshop or whatever and if you scale it up, (no stretching it in a singular direction – that's cheating), just literally grab a corner and scale it, you will see it lands smack down on our "Bomb site".  See how that SFPD=0 clue he gave didn't just use a simple circle ? He wasn't only emphasising the bomb site by enlarging the circle, (he no need to have done that), he was actually drawing the Colliseum itself !!!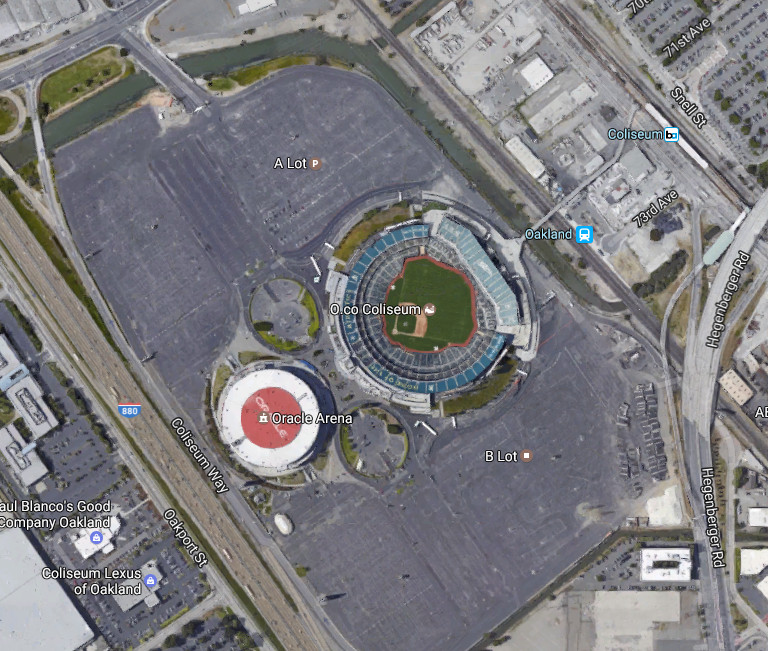 Personally, I haven't figured out yet why he targeted the Colliseum, (or perhaps the nearby Oracle). It may be nothing more than it was a suitably "Large Target", as referenced I believe in the free tickets he sent to "Gerald Tagert" a week before.... Gerald Tagert =  Large Target, (except for the additional "D", which I'm sure he would have told us to omit if we could see the original message / envelope).

Calstock




Posts

: 35


Join date

: 2017-01-28



Similar topics
---
Permissions in this forum:
You
cannot
reply to topics in this forum